Thanks


Nostalgia
di Ivan Quaroni

Secoli fa la nostalgia era considerata una malattia. Ne soffrivano i mercenari svizzeri stanziati in Europa durante il Seicento, che esprimevano la propria malinconia per la terra d'origine con una melodia – il Ranz des vaches cantato dai mandriani sulle Alpi – talmente dolce e straziante da essere proibita, pena la morte. Il termine appare per la prima volta proprio nel XVII secolo ad opera di un giovane medico, Johannes Hofer, che nella sua tesi di laurea, intitolata Dissertatio medica de nostalgia, individuava le cause fisiche e materiali di questo doloroso desiderio di tornare in patria non solo nel cambiamento di abitudini, aria, cibo, usi e costumi, ma anche in una precisa sintomatologia: l'immaginazione turbata, la tristezza, il pianto e addirittura la febbre. Questo neologismo, derivato dalla crasi delle parole greche Nóstos (ritorno) e Álgos (sofferenza), definisce il tormento provocato da un inappagato desiderio di ritorno ai luoghi natii. E, in tal senso, l'Odissea è il perfetto poema epico della nostalgia, il meraviglioso racconto dell'accidentato viaggio di Ulisse verso Itaca.
continua a leggere...
Nostalgia
di Ivan Quaroni

Centuries ago, nostalgia was considered a disease. Even the Swiss mercenaries hired throughout Europe during the Seventeenth century suffered from it. They expressed their homesickness through a tune – the Ranz des vaches sung by herdsmen in the Alps – that was so sweet and heartbreaking, it was forbidden and even punishable by death. The term was used for the first time in the Seventeenth century by a young medical student, Johannes Hofer. In his thesis, Dissertatio Medica de Nostalgia, Hofer identified the causes of this longing for the motherland in the different habits, environment, food, and customs. He also outlined the symptoms of this disorder, which included afflicted imagination, general sadness, crying, and even fever. The word "nostalgia" comes from the ancient Greek words Nóstos (homecoming) and Álgos (pain) and defines the distress caused by homesickness. Homer's Odyssey – the epic tale of Odysseus' excruciating journey back home – is the story of nostalgia par excellence.
continue reading...
Thanks
140 x 110 cm
Acrylic on canvas, screen printing, 2020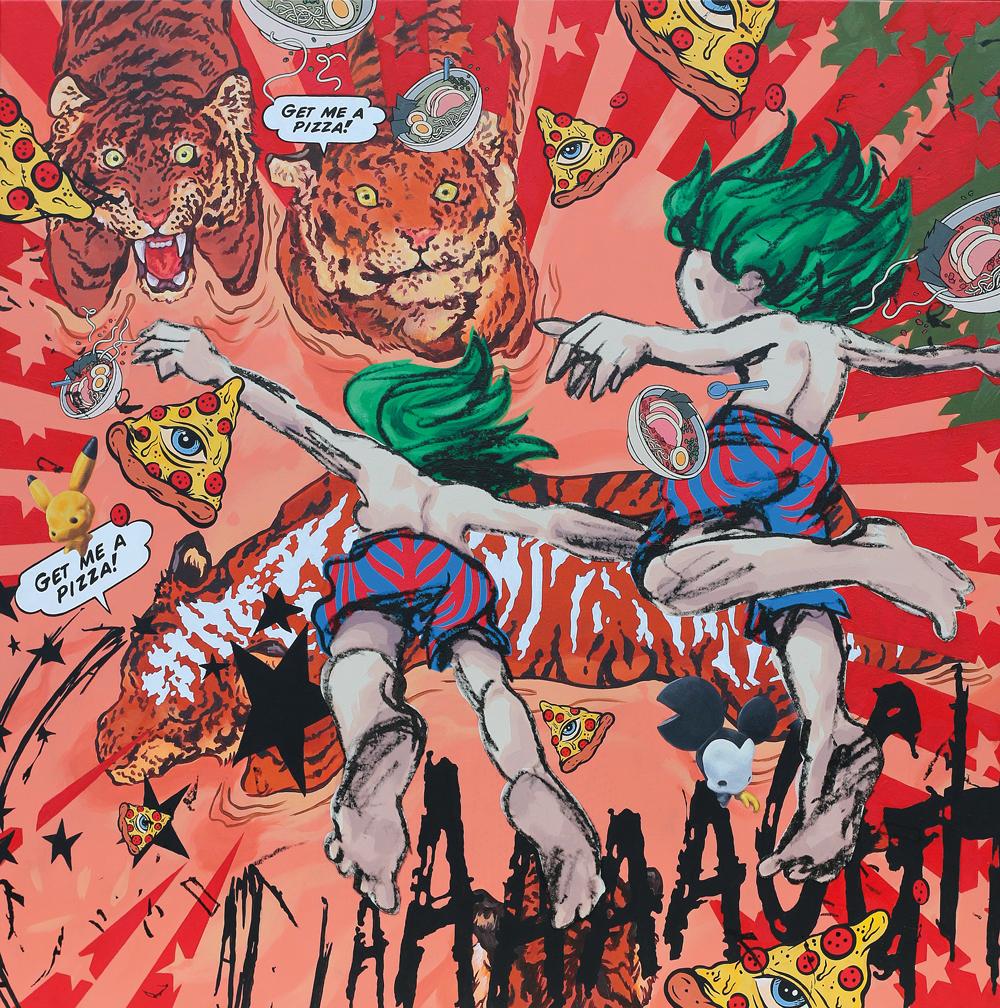 Orphans
100 x 100 cm
Acrylic on canvas, screen , 2020
Lady, Lady, Lady

100 x 100 cm
Acrylic on canvas, screen printing, 2020
Everyone with Me

100 x 100 cm
Acrylic on canvas, screen printing, 2020
Here I am
80 x 60 cm
Acrylic on canvas, screen printing, 2020
Wondermood
120 x 100 cm
Acrylic on canvas, screen printing, 2020
Jonny Boy - Joe
H 60, W 21, D 23 cm
Stratified nylon, acrylic, clay, wood, 2020
Jonny Boy - Smack

H 60, W 44, D 30 cm
Stratified nylon, acrylic, wood, 2020
Jonny Boy - Jump

H 32 cm
Stratified resin, acrylic, steel, 2020