We Come in Peace


Quando qualcuno afferma :" veniamo in pace ", provoca una sensazione strana, pervade istantaneamente il dubbio che stia dicendo la verità, che sia in buona fede oppure che usi questa potente frase come apripista per un secondo fine.
Per prima cosa si alza il livello di attenzione e si guardano i dettagli, come è vestito, se è da solo, l'espressione del viso, l'atteggiamento, il tono di voce, il colore degl'occhi, dei capelli e la mente inizia a viaggiare.
Da dove viene, quali sono le vere intenzioni e piano piano l'incertezza si trasforma in paura e la paura è maledetta perché opprime e soffoca.
We Come in Peace è, a tutti gli effetti, un'invasione, un'intromissione, un esercito di esseri straordinari compare per la prima volta sulla faccia della terra. Sono mostri ossia prodigi. Mostro dal latino significa appunto prodigio, essere straordinario.
L'impatto è tipico di quando si incrocia con lo sguardo, per la prima volta, un'immagine sconosciuta.
La osservi e cerchi di decifrarla ma non puoi capire perché gli strumenti che hai a disposizione non sono sufficienti quindi subentra il dubbio e si fa un passo indietro. Sono opere che hanno una doppia faccia, una doppia lettura, un sottotesto nascosto.
L'estetica è dolce, amabile con linee curve e morbide ma, in realtà, ogni mostro ha una storia alle spalle.
Storie di bambini, fatti accaduti collegati a stati emotivi anche infelici. Fratelli, sorelle, gemelli, amici, orfani, storie di vita, separazioni, avventure, momenti di gioia e di grande tristezza, incontri, separazioni, vittorie e sconfitte.
We Come in Peace è un progetto che si fa scoprire un pò alla volta, ci devi entrare, approfondire, spendere del tempo per capire, come la vita.


When someone says, "we come in peace", it causes a strange sensation, instantly pervades the doubt that he is telling the truth, that he is in good faith or that he uses this powerful phrase as a forerunner for a second purpose.
First, raise the level of attention and look at the details, how it is dressed, if it is alone, the expression of the face, the attitude, the tone of voice, the color of the eyes, the hair and the mind start traveling. Where it comes from, what the true intentions are and slowly the uncertainty turns into fear and the fear is cursed because it oppresses and suffocates.
We Come in Peace is, in effect, an invasion, an intrusion, an army of extraordinary beings appears for the first time on the face of the earth. They are monsters or wonders. Monster from the Latin means precisely prodigy, to be extraordinary.
The impact is typical of when you look at an unknown image for the first time.
You look at it and try to decipher it but you can't understand why the tools you have available are not enough so the doubt takes over and you step back. They are works that have a double face, a double reading, a hidden subtext.
The aesthetic is sweet, lovable with curved and soft lines but, in reality, each monster has a story behind it.
Stories of children, happened facts connected to emotional states even unhappy. Brothers, sisters, twins, friends, orphans, life stories, separations, adventures, moments of joy and great sadness, meetings, separations, victories and defeats.
We Come in Peace is a project that lets you discover a little at a time, you have to go in, look into it, spend time to understand, like life.
Mystic Julian
H 300, W 170, D 80 cm
Stratified varnished resin - Unique piece, 2016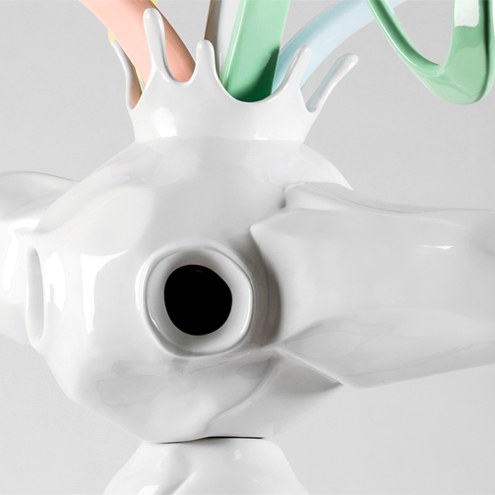 Forever Bandits
H 215, W 100, D 60 cm
Stratified varnished resin with magnetized components - Unique piece, 2016
Blue Julian
H 120, W 100, D 60 cm
Ceramic new version by Bosa, 2015
Red Atomic
H 130, W 80, D 60 cm
Ceramic new version by Bosa, 2015
Deep Deep
H 92, W 200, D 65 cm
Stratified varnished resin with magnetized spikes - Unique piece, 2015
Simple Pink
H 140, W 45, D 50 cm
Stratified varnished resin - Unique piece, 2015
Blue Black
H 63, W 110, D 60 cm
Stratified varnished resin - Unique piece, 2015
Iperfante
H 210, W 180, D 150 cm
Stratified varnished resin, magnets - Unique piece, 2016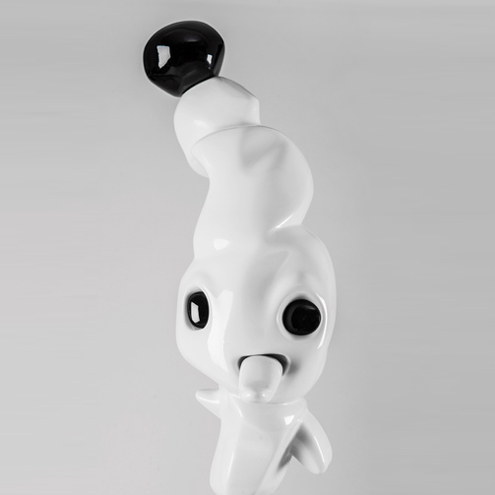 Boca Yellow
H 121, W 98, D 61 cm
Stratified varnished resin - Unique piece, 2015
Blue Chute
H 130, W 80, D 60 cm
Stratified varnished resin, magnets - Unique piece, 2016
Sweet Coke
H 130, W 80, D 60 cm
Stratified varnished resin, magnets - Unique piece, 2016
Sweet and Sour and a Bit Salty 2
H 14-18 cm (about)
Stratified resin, industrial paint,
magnets, 2015
Red Sky in the Evening 1
H 14-18 cm (about)
Stratified resin, industrial paint,
magnets, 2015
At the End of the Blue Chute 1
H 14-18 cm (about)
Stratified resin, industrial paint,
magnets, 2015
The Legend of Castor and Pollux 2
H 14-18 cm (about)
Stratified resin, industrial paint,
magnets, 2015
The Abacus
H 14-18 cm (about)
Stratified resin, industrial paint,
magnets, 2015
The Straw
H 14-18 cm (about)
Stratified resin, industrial paint,
magnets, 2015
The Edge of the Ice Field
H 14-18 cm (about)
Stratified resin, industrial paint,
magnets, 2015
The part of Zucchini
H 14-18 cm (about)
Stratified resin, industrial paint,
magnets, 2015
At the End of the Blue Chute 2
H 14-18 cm (about)
Stratified resin, industrial paint,
magnets, 2015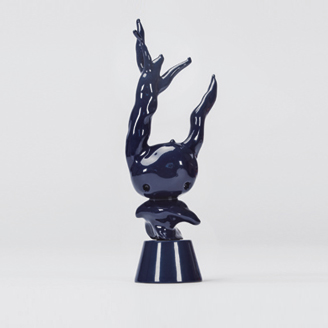 The Pencil Message
H 14-18 cm (about)
Stratified resin, industrial paint,
magnets, 2015
The Decisive Vote
H 14-18 cm (about)
Stratified resin, industrial paint,
magnets, 2015
The Legend of Castor and Pollux 1
H 14-18 cm (about)
Stratified resin, industrial paint,
magnets, 2015